OK, this is a little embarrassing….. We've commented before that we don't update our website as often as we should.  We get so wrapped up in the actual car building that we tend to forget about sharing this adventure with others.  Back in May 2017 we did a post showing a "new" 1957 Chevy 210 project.  That's the last you heard about it.  I guess some updates would have been nice considering that the car is almost finished now…
We left off with some pictures of the floors and rockers being replaced.
After all the steel work was finished we removed the body, installed it on the  rotisserie and really took it to the next level.
The chassis was completely stripped down and rebuilt.  This included a rack and pinion steering system, all new suspension,  a lowering kit and four wheel disc brakes. Here are some shots with the body back on the chassis and the car going back together.
The drive train is a 385 hp small block mated to a custom built 700R4 transmission.  We went with an aftermarket fuel injection system and supplied it with an in-tank pump system.  We left the original rear axle in the car but upgraded it with a posi unit.  We also installed a custom AC  system and upgraded to a programmable  electric cooling fan.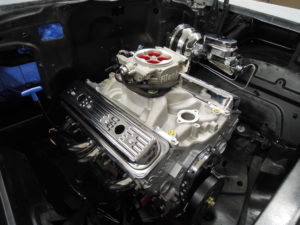 At present the car runs and drives, and is mostly assembled.  Here's a teaser shot from a month ago so you can see the color.  The paint on this car is incredible.  The silver is difficult to look at in full sunlight.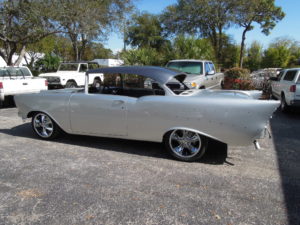 We'll make a point of doing another update on this beautiful car soon.  It has about half the trim on it right now and the combination of the chrome on silver is pretty amazing.   We carried the gray metallic from the roof down to the dash and wrapped it around the interior trim.  We hope the owner has a big trophy case…..