We wrapped up our restoration of the cool little Datsun Pick-up.  This truck generated more smiles in our shop than we've seen in quite a while.  It was like a VW Beetle.  We were amazed at how many people said they had owned one and it seemed that everyone had a story from their past that involved one.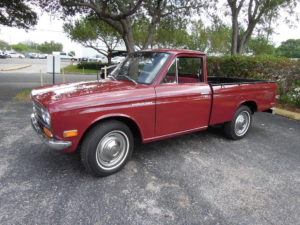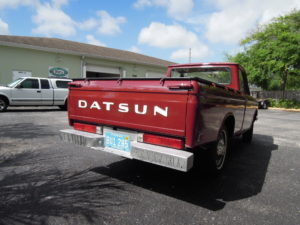 The truck was running and driving when we got it so we didn't need to do much mechanically. There were quite a few electrical issues to resolve and the  ancient factory carb was more trouble than it was worth.
Like most vehicles of this era there was perforation rust damage but really not bad.  This truck came from Oklahoma so  it had a relatively dry life. The rampant surface rust was the bigger problem.
We pulled the bed, rust treated the underside of everything, then rust treated and painted the chassis.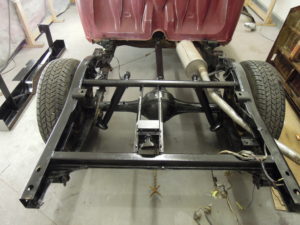 After treating all the surface rust,  quite a bit of body work and a single stage urethane paint job, we had the little truck looking better than it did from the factory.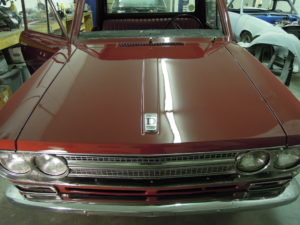 These trucks were originally pretty spartan inside with only rubber floor mats.   We added sound deadening, a jute layer and custom carpet. We restored the dash and added a new stereo with hidden speakers.  Parts are extremely hard to find for these trucks but the owner's diligence resulted in a like new original steering wheel. We also did a custom installation of modern three point seat/shoulder belts to make driving safer.  Here are the before and after shots.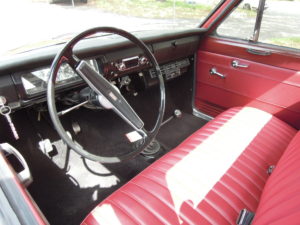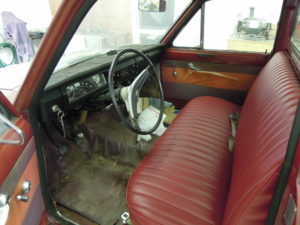 This particular truck had a very rare, dealer installed AC system.  It was not working when we got the truck and the compressor had been removed.  We left the evaporator and blower system as-is.  We did a custom installation of a new universal condenser.  Next we custom fabricated a bracket to hold a new Sanden style compressor.  The system still needed custom made hoses which we can't do.  The owner was taking it to an AC specialty shop to have the system brought back to life.
We did some engine compartment painting and detailing, cleaned up the wiring and did a Weber carb upgrade.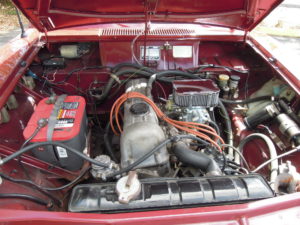 The owner is going to use this as his daily driver (We love when people drive their vintage vehicles !)  Keep an eye out for it tooling around St. Pete.