A while ago we told you about a 1983 El Camino that had come to our shop.  The owner intends  to use the car as his daily driver.  He's had quite a few classic cars and would rather drive "vintage" than something new.  This car was rough when he got it but he planned on a major rework anyway. The owner has been doing paint and body work for many years and will be doing that part of the project himself. He delivered the car to the shop as a chassis and body shell.  We basically did a body off rebuild on it but stopped short of putting the body on a rotisserie.
In the first post we showed you the complete front suspension rebuild.  That was just the start in order to meet the owner's "new car" dependability goal.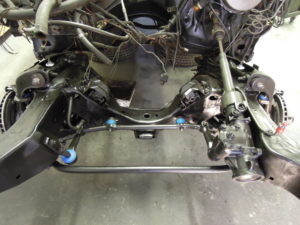 After replacing every front suspension and steering component, we replaced the rear springs, all rear bushings, every brake component, shocks and axle bearings.  The body mount bushings were gone so we lifted the body just enough to squeeze in the new parts. While we had the body slightly elevated we cleaned and painted the chassis.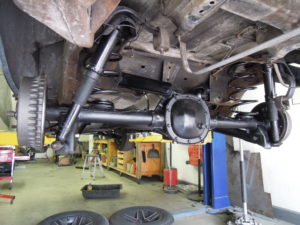 We addressed the rusty spots at this point.  The rust damage was mainly confined to the floor sections and overall wasn't really bad.  We repaired the rust the proper way – replace the damaged metal.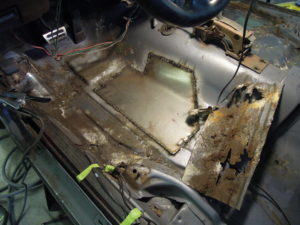 With the engine out it was relatively easy to repair the AC box and replace all the components.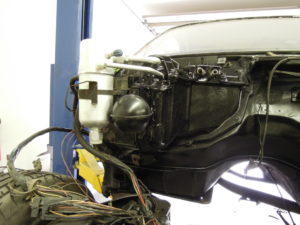 To provide a little more driving fun, we swapped in a brand new small block crate motor and turbo 350 transmission.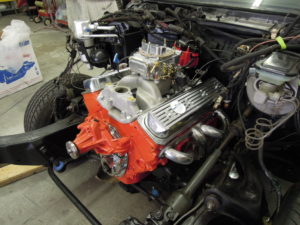 The front accessory drive was updated to a factory style GM serpentine kit.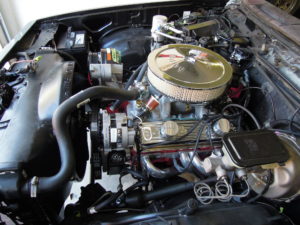 We got the car running and moving under its own power and assembled a new front clip.
At that point we shipped the car back to the owner for him to do his magic with the body work and paint.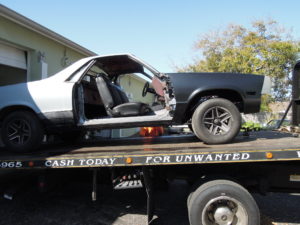 We're still actively involved with the car and are working in between the stages that the owner is doing himself.  With this arrangement it's actually easier to do our intermittent work with the car at his house.
The car is moving along quickly and we should have some final pictures in a month or so.