We made you look, didn't we ?  You don't see swamp buggies every day, especially in the middle of an over-built city like St. Petersburg.  This is Shon's buggy and it drew a lot of attention when it was outside.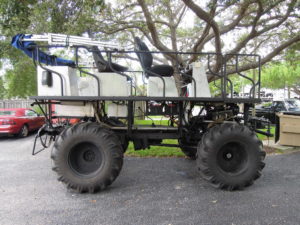 This buggy has all sorts of cool features and custom touches but the old Buick V-6 that powered it had seen better days.  The compression was so low that you could turn the engine over by hand.  That's not a good thing for a machine this heavy.  Shon decided it needed a major upgrade in the form of a small block Chevy motor. That's where we came into the picture.
Here's the old V-6.  Note the creativity that's needed to make one of these buggies actually work.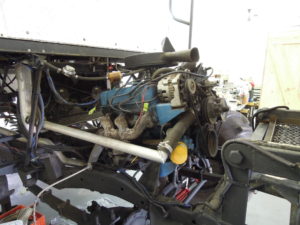 Here's the new motor ready to go in and a shot of it sitting on the new motor mounts.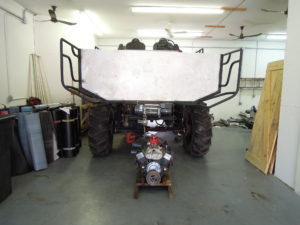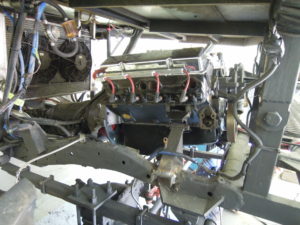 You can see in the two photos above how well designed this thing is.  The entire front section tilts forward to give you complete access to the engine area (left photo). In the right photo you can see the front tilted back in place with the floor now covering the motor.  Working on it was a breeze.  No lifts needed !  All you had to do was have a seat underneath it and go to work.  If you look closely you can see my feet sticking out.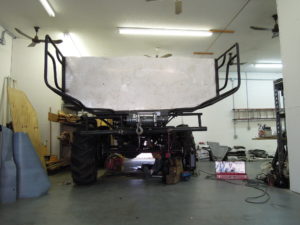 Here is a shot of the completed installation.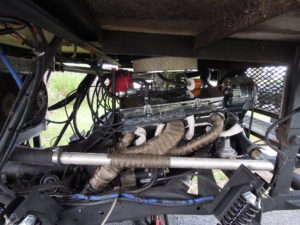 While the buggy was in the shop, Shon decided that he wanted a dual shock set-up for for each corner.  Steve and Shon worked out the design and this is an action shot of Steve welding in the new shock mounts.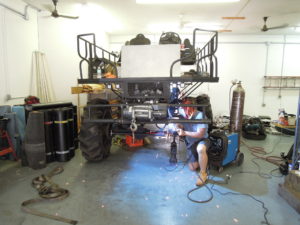 This was the final test and tune.  You can appreciate the size of this thing when you see people on it and around it.  And yes, the buggy was "accidentally" driven on the street as part of the testing process.  Hey, these things happen….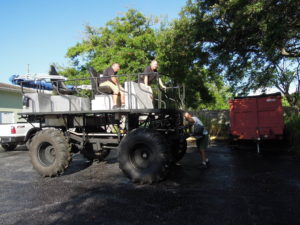 Got something unique you want to have modified ?  Give us a call !