Vintage trucks of all makes are incredibly popular and a lot of fun to own.  They do tend to lose some of their charm when you actually have to drive them and maneuver in places like parking lots with the stock steering system.   The original steering can be very difficult, if not impossible to turn with the truck stationary.  This problem is exaggerated if you've installed wider tires.  The original steering designs also had a fair bit of free play in them which can make the trucks a real handful in traffic at higher speeds.   Many people are of the belief that the only way to solve this problem is to transplant an entire, modern front end into the truck.  Granted this does solve all the problems and provide great handling but it's expensive and takes away from the originality.
I was dealing with the classic steering issues on my 1951 Ford Panel truck and began looking for solutions.  I wanted to keep the original front end and steering column on the truck but have precise, power steering.  I came across a kit being sold by Performance OnLine that looked like a perfect solution.  I'll jump ahead here and tell you that it was !  They sell a custom made power rack and pinion kit that bolts to the stock straight axles using custom machined clamps.  You have to supply your own power steering  pump and lines.  This was not a problem for me.  My truck has a 351 Cleveland with all the factory accessories  on it.  I had been running the steering pump with a by-pass hose.
I won't bore you with a step by step installation story.  You can go to their web site and download the instructions.  You have to remove the old steering box, tie rods, drag link assembly and modify the spindles a little.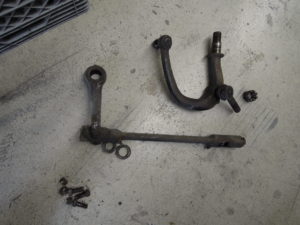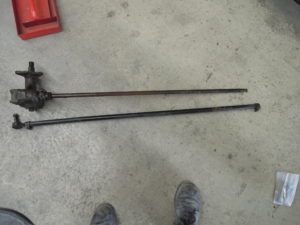 With all the old stuff out of the way, the rack literally takes five minutes to install.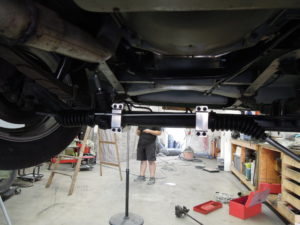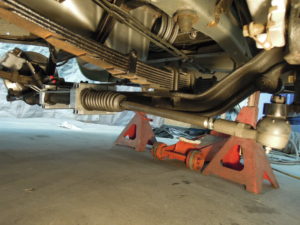 In my case I had to work around some front disc brake brackets to get the new arms on the spindles.  Those are 1970's Dodge van brakes installed on the original spindles by a creative previous owner.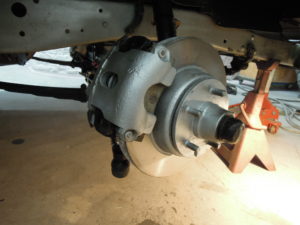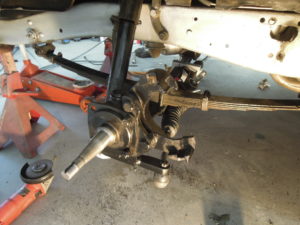 If you have an updated column in your truck this conversion is very easy.  I wanted to keep my stock column and steering wheel so there was a bit more work involved.  You have to cut the shaft off the old steering box and modify the end of the column to support the shaft.  Have no fear !  POL also sells a "column saver kit" with all the goodies to  make this conversion.  I wouldn't call this an ameture level project but anyone with reasonable wrenching skills could pull it off.
After doing the mechanical parts I had some custom hoses made up and was on my way.  You could probably find off the shelf hoses and some adapters to connect your system.  For me it was faster and easier just to give the specs to my local Goodyear hose shop.
The end result is absolutely amazing.  There is zero slop in the steering and the rack is actually a quick-ratio model.  I have sports car steering in my old Panel Truck !  Driving and maneuvering in tight parking lots is effortless now.  I  don't need that giant steering wheel any more but I'm keeping it to preserve the look of the truck.  If you're thinking about a steering upgrade it's well worth investigating the POL kits.